2016 Grass ROOTS GRANT RECIPIENTs:
CASSELTON HERITAGE CENTER
Casselton Heritage Center, Inc. is a non-profit organization dedicated to conserving the rich history of the town of Casselton in Cass County, ND. The Heritage Center is housed in a 130 year old stone church, formerly known as St. Stephen's Episcopal. The building is listed on the National Register and is used for community events. In 2016, this group undertook an extensive roofing project, installing new cedar shingles and adding life to this incredible resource!
Wimbledon Community Museum
The Wimbledon Community Museum Inc., addressed major peeling of the paint on the building's clapboard siding. The project involved hand scraping the failing paint, then prepping the underlying surface and applying a fresh new coat. The museum is located inside the historic Wimbledon Midland Continental Railroad Depot built in 1913 as a stop on the Midland Continental Railroad. For a period of time in the 1930s, famed jazz singer Peggy Lee lived in the Depot where her father served as depot-agent.
Rural Vestige Alliance 2015
RVA is a member of PND's Local Affiliate Program located in Manfred, ND. This Prairie Places Grassroots Grant will assist RVA in reconstructing the portico over the main entrance to the Manfred School. RVA's reconstruction work will be based on historic records and photographs such as this one showing the pedimented entry.
Touchstones, Inc
Touchstones, Inc is a small nonprofit organized to save the historic Stone Bank in Bottineau, ND. The bank was built between 1897 and 1900 and operated as the Bottineau County Bank until it closed in 1923. The building then housed several other small businesses over the years, including a dentist's office, health clinic, and law offices. This Prairie Places Grassroots Grant helped with Phase II of the project, which includes stabilizing the foundation under the addition and rebuilding the walls.
GRACE EPISCOPAL CHURCH
Grace Episcopal Church in Jamestown, ND was built between 1883 and 1885 and was listed on the National Register of Historic Places in 1992. Built in the Gothic Revival style, Grace Episcopal Church has many distinctive features, including thirteen stained glass windows. This Prairie Churches Grassroots Grant will assist with restoration of Grace Episcopal Church's historic stained glass windows.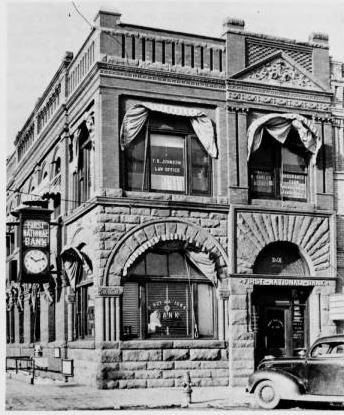 Hillsboro Community Partnership
HCP is a member of PND's Local Affiliate Program organized to restore an 1890s commercial building known as Union Block in downtown Hillsboro, ND. This Prairie Places Grassroots Grant assisted with HCP's storefront rehabilitation project. This PND affiliate groups has "graduated" from the affiliate program, finished the rehabilitation projects, sold the restored building and contributed to the life and vibrancy of downtown Hillsboro by supporting a fun bakery.
ELLENDALE OPERA HOUSE
O.P.E.R.A. - the Organization of People in Ellendale for the Restoration of the Arts - is a local non-profit that owns the historic Ellendale Opera House. Built in 1908, the Opera House is listed on the National Register of Historic Places and hosts several arts and cultural events each year. A $2,750 Prairie Places Grant assisted their restoration efforts with stucco repair on the back of the building.
Photos courtesy Jeanette Robb-Ruenz
ST. ANDREWS LUTHERAN CHURCH
Located near Zeeland, in McIntosh County, St. Andrew's Lutheran Church was built in 1906 and is listed on the National Register of Historic Places. St. Andrew's is a beautiful Colonial Revival Church, and is locally known as "The Beacon on the Prairie." The church has an active community and has been featured on several heritage tours celebrating German-Russian culture. A Prairie Churches Grassroots Grant is assisting with roof repairs.
Photos courtesy Carol Just
MIDLAND CONTINENTAL RAILROAD DEPOT
The Wimbledon Community Museum is currently restoring the historic Midland Continental Depot in Wimbledon, ND received a Prairie Places Grassroots Grant to restore the wooden boardwalk and original paint colors (cream and green).
Photo courtesy Wimbledon Community Museum
NORTHWEST HALL, MAYVILLE STATE UNIVERSITY
Mayville Campus Preservation Society is a member of PND's Local Affiliate Program. MCPS is dedicated to rehabilitating Northwest Hall on the campus of Mayville State University. A former dormitory (among other uses), Northwest Hall will be used as an alumni center. A Prairie Places Grassroots Grant assisted MCPS with restoring copper roofing on the west portico of the hall.
Photos: http://www.mayvillestate.edu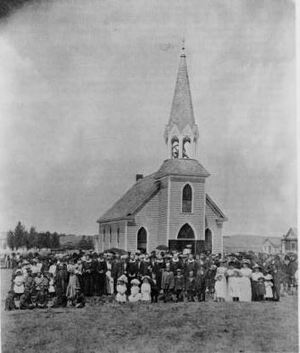 VANG LUTHERAN CHURCH
Vang Lutheran Church in Manfred, ND, was built in 1906 and is listed on the National Register of Historic Places. In addition to regular services, the church is also part of the Manfred Heritage Museum and hosts exhibit space and community gatherings. A Prairie Churches Grassroots Grant assisted with roof repairs.
Photo courtesy John Toso
Historical photo from 75th Anniversary: Vang American Lutheran Church
UNION BLOCK
Hillsboro Community Partnership is a member of PND's Local Affiliate Program. Members worked on a multi-phase restoration of Union Block, a turn-of-the-century brick commercial building located in downtown Hillsboro for nearly six years.This Prairie Places Grassroots Grant helped HCP to restore and replace the 15 large (8'x4') second-story windows.
Photo courtesy John Toso
JOHNSON-OSTREM HOUSE
The Johnson-Ostrem Preservation Fund is a member of PND's Local Affiliate Program. Members of Johnson-Ostrem restored the historic Johnson-Jacobson-Ostrem House, built in 1905 in Manfred, ND. Thanks to the restoration project, the house now contributes to the Manfred Heritage Museum. A Prairie Places Grassroots Grant in the amount of $1,450 assisted with interior repairs to the house, including restoration of the lath and plaster walls.
Photo courtesy Wanda Melchert